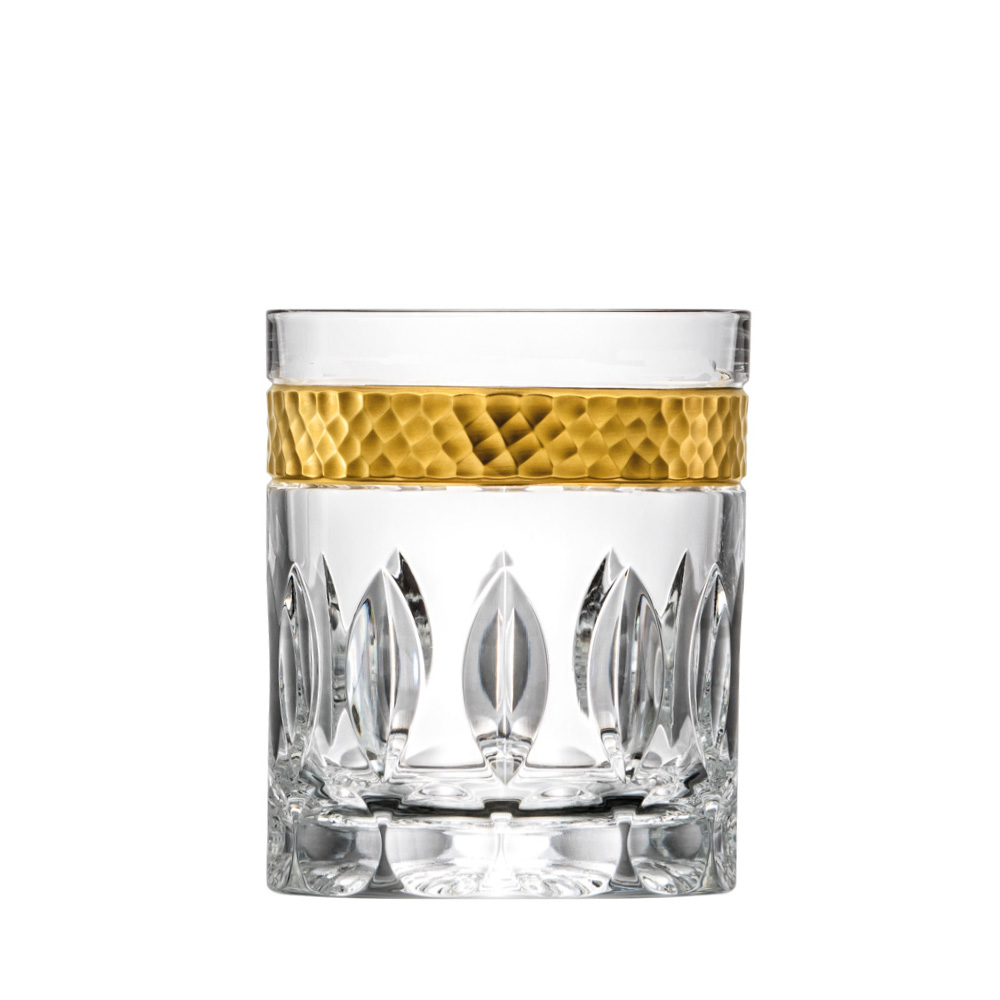 Whiskyglas Kristall Bloom Gold (10 cm)
Available, delivery time: 0 - 1 Tage
Manufacturer number:
Whisky//3263/10/Bloom-Gold/clear
Advantages with ARNSTADT ® Crystal:

Direct from the manufacturer

Handmade in Germany³

Free shipping from $ 250.00 (US)

shipping throughout the United States

secure payment / SSL encryption

Buyer and data protection
Product information "Whiskyglas Kristall Bloom Gold (10 cm)"
Die Gläser aus der Serie BLOOM von ARNSTADT KRISTALL scheinen aus einer anderen Zeit zu kommen. Die mundgeblasenen Gläser sind mit einem aufwendigen Dekor versehen, welches an die goldenen 20er Jahre erinnert. Sie sind von Meisterhand geschliffen wurden. Das Design dieser Gläsern passt wunderbar zum Vintage-Trend. Die wunderschönen Gläser liegen gut in der Hand, haben ein angenehmes Gewicht und eignen sich ideal, um Cocktails, Longdrinks und selbstverständlich Whisky anzurichten

Sie wirken so besonders und haben einen derart hohen Wiedererkennungswert, dass man sie - einmal in der Hand gehalten - nicht mehr vergisst. Die Whiskygläser oder auch Tumbler Gläser Bloom von ARNSTADT KRISTALL sind durch ihre schwere Form, durch das opulente Muster und das schöne Kristallglas in Clubs und Szene-Restaurants längst kein Geheimtipp mehr.

Das Design trifft exakt den schmalen Grat, auf dem nostalgisch, vielleicht sogar leicht altbacken anmutendes zu einem echten Kultstück wird. DasWhiskyglas Karo von ARNSTADT KRISTALL umweht ein Hauch von Luxus und erzielt bei den Gästen in der eigenen Hausbar einen großen Effekt. Durch den dicken Glasboden hält das Glas die optimale Trinktemperatur Ihres Lieblingsgetränkes für einen langen Zeitraum konstant. Dieses Glas ist ideal für hochwertigen Whisky geeignet aber selbstverständlich schmecken auch Softdrinks, Säfte oder ein köstliches Wasser ebenso gut aus diesen eleganten Gläsern.

ARNSTADT KRISTALL Whiskygläser zeichnen sich aus:
anspruchsvolles und exklusives Design
aus hochwertigstem Kristallglas
handgefertigt in Deutschland
mundgeblasen und von Hand geschliffen
vielseitig kombinierbar
Lieferung im Geschenkkarton
Bildhinweis: Bild 2 und 3 dient als Dekorationsvorschlag. Abbildungen nicht im Lieferumfang.
| | |
| --- | --- |
| chosen color: | clear |
| kind: | Whiskyglas |
| model: | klassisch |
| selected finish: | mit 24 Karat Goldrand |